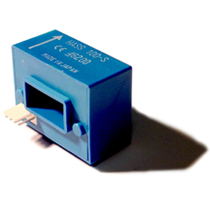 Panel mounted current transducers for unipolar +5V operation
Main characteristics:
7 standard models
Panel mounting
Currents" measurement from 50 to 600 ARMS nominal
Unique design for all the models
Small size for measurement up to 600
Light: 55 g
Operating temperature range: -40 to +85°C
5 years warranty
Features:
Accurate (1% of IPN at 25°C without offset) DC, AC, pulse, small currents" measurements with galvanic isolation
Single supply + 5V
Non contact measurement
Isolation test voltage: 3,3 KVRMS / 50Hz / 1min
Voltage output
Fixed offset and gain
Reference access
Open Loop technology combined with ASIC
Standard Compliance:
EN50178 for industrial applications such as:

Home appliances
Variable speed drives
UPS"s
SMPS"s
Air conditioners
Current monitoring
Solar panels inverters
Welding applications

European Directive EMC 89 / 336 / EEC : CE Marking
Using UL94-VO recognized materials
Low voltage directive 72/23/EEC
Safety IEC 61010-1
Remarks:
HASS brings an additional pin, at the output for more flexibility in applications. This pin provides access to the internal voltage reference of the ASIC which can then be fed to the reference of an A/D converter (Analog Digital) This extra pin can also receive the internal reference (from 2 to 2.8 V) of the DSP (Digital Signal Processor) or A/D converters commonly used in power electronics, allowing cancellation of the reference temperature drift.
HASS is non potted.
Модель

Номинальное
значение
первичного сигнала
Диапазон
преобразования
Вторичный
сигнал
Напряжение
питания (В)

Точность (%)

Тип монтажа

HASS 100-S
100 A
300 A
625 mV
5-5 Uni
1
Panel
HASS 200-S
200 A
600 A
625 mV
5-5 Uni
1
Panel
HASS 300-S
300 A
900 A
625 mV
5-5 Uni
1
Panel
HASS 400-S
400 A
900 A
625 mV
5-5 Uni
1
Panel
HASS 50-S
50 A
150 A
625 mV
5-5 Uni
1
Panel
HASS 500-S
500 A
900 A
625 mV
5-5 Uni
1
Panel
HASS 600-S
600 A
900 A
625 mV
5-5 Uni
1
Panel